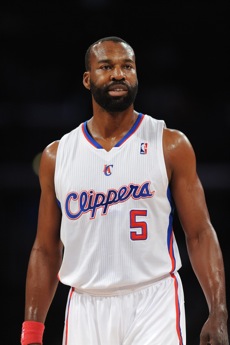 Posted by Royce Young
Most thought 85 would end up being the number of pounds
Baron Davis
put on after getting word he was dealt to Cleveland. But it's actually going to be the number he wears on his back.
Davis has chosen to wear No. 85 for the
Cavaliers
to as a dedication to his time spent in Ohio when he was a kid and living with his grandparents on 85th Street
"That's where I had my first basketball court and was introduced to the game,"
Davis told the Akron Beacon-Journal.
"I have to get back to my roots, get back to dribbling -- even if I have to dribble in the snow. I want to just enjoy the game, the love of the game and really enjoy this opportunity of being the best basketball player I can be. I think it's going to happen here."
Maybe he'll change his name to Baron Ocho Cinco as well. We can only hope.
Davis is out right now with some swelling in his left knee, but he should make his first appearance for the Cavs Friday against the
Knicks
.
This season with the
Clippers
, Davis had found new energy playing with super rookie
Blake Griffin
, and while the Clippers were headed straight for the lottery too, Davis is now with the league's worst team. The natural feeling is that Davis would lose focus, put on weight, get out of shape and just mail in the rest of the reason.
Davis though, says that won't be the case. One reason is, he finally doesn't have Clipper owner Donald Sterling yelling at him.
"You never expect the person who signs you to a contract to be the person who hates you the most," Davis said.
Well, don't speak too soon, Baron. Keep in mind, your new owner is Dan Gilbert.