Ray Allen talks to Ken Berger about Kobe, the Hall, and his son's fight with diabetes.
Posted by Matt Moore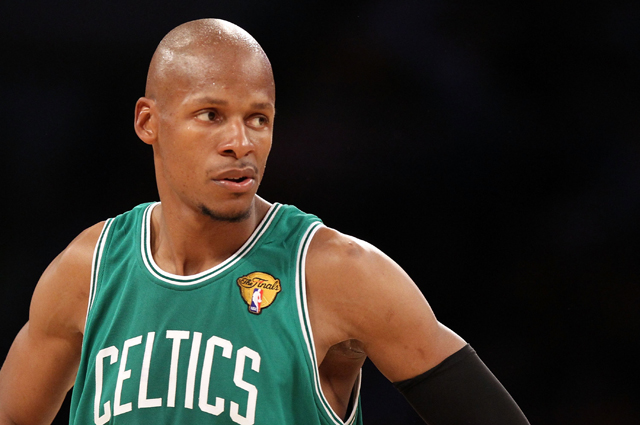 In this week's "In the Moment" interview with Ken Berger, Ray Allen talks about the Hall of Fame and how people have been telling him for years he needs to be concerned with his inclusion, while Allen has just kept on doing what he does: playing ball at a high level consistently.
Allen, on if he's ever thought about the Hall:
"I think it's one of those moments again that come upon you and once you're in it, you're overwhelmed by it. Maybe five years ago I had a whisper or two of 'You've got to do whatever you can to start solidifying your name for the Hall of Fame.' And what's going to get me in the Hall of Fame, not that I cared about it at the time, but what was going to get me there, was me doing my job, and by being consistent. Doing just what I've been doing every night, and hopefully winning a championship. And that happened the next year. So I never worried about it."
Allen also reflected on what it was that started the whole feud with
Kobe Bryant
:
"We were playing a preseason exhibition game, and we beat them, and I got sick after the game, so I didn't speak to the media. I played the next night in Portland. That night we were talking about the Lakers without Shaq, because they'd just traded him. I said I didn't think they would be good without Shaq. It was comical because we were just laughing about it, I said Kobe will probably want to be traded in two years from now because he doesn't have a big guy he rely on, and having a big in this league is hard to come by. He didn't like that too well. And for the next two years, every time we played each other, we always went at each other. I'd come down hit a three, he'd come right back at me and hit a three, I'd come back down and hit a three. It was just basketball."
But the most important thing Allen talks about his young son's battle with diabetes.
"We have to show everyone in the world how diabolical this disease is. And two, how we're going to keep other kids from dying from misdiagnosis, becaue diabetes shows itself as the common flu. And if you don't know it, you'll go to the hospital and even doctors will tell you 'Oh, your child just has the flu.' And there have been a lot of people who have died because they've been misdiagnosed as having the flu. We want every parent to know to get your kid's blood drawn. If you feel they have a common flu symptoms, even in the winter time? Get your blood drawn, check the blood sugar levels checked."
Allen isn't just a surefire Hall of Fame candidat (we hope, but then we thought the same about Reggie), he's one of the true class acts in the NBA. Enjoy him, this All-Star Weekend.