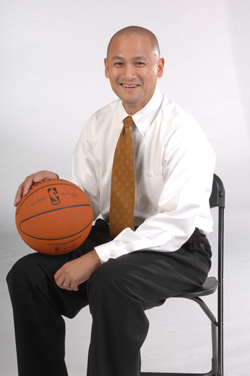 CBSSports.com's Ken Berger reports that the Portland Trail Blazers could be in for an active trade deadline. Posted by Ben Golliver.
On Wednesday
, CBSSports.com's Ken Berger noted a few factors that could make the Portland Trail Blazers an important player during the 2011 trade deadline season. First, the Blazers are just over the luxury tax line and presumably looking to get under it if possible. Second, the Blazers possess a number of expiring contracts that would serve as good bargaining chips.
Execs are monitoring the intentions of Houston, Portland and Utah -- all tax-paying teams that will be deciding whether to go deeper into the tax or pull back from it.
One exec said he believes Portland GM Rich Cho is "poised for a pretty significant 24th." Given the grim prognosis for star guard Brandon Roy and the uncertainty about what cap space will be worth under the new labor rules, Cho is seriously considering cashing in on the expiring contract of Joel Przybilla and the essentially expiring deal of Andre Miller, whose 2011-12 salary is fully non-guaranteed. Marcus Camby, who has a year left at $12.9 million, could be enticing to one of the few deep-pocketed contenders not shy about taking on future money with CBA changes looming. The Mavericks, for example, will "listen to anything," according to a source.
Cho, Portland's first-year GM, doesn't have much of a track record to date, but he previously worked under Oklahoma City
Thunder
GM Sam Presti, who is known for his patience, discretion and how much he values salary cap flexibility. Cho appears to be cut from the same cloth. He's developed a reputation for his analytical approach to evaluating players and has made one significant move this season, dumping reserve guard
Jerryd Bayless
for a conditional first round draft pick in order to shed salary and increase his flexibility.
Here are the question that Cho has been grappling with all season: Are the Blazers, who have been bounced in the first round of the Western Conference playoffs each of the past two seasons, coming or going? And if they are going, is it time to blow things up and get younger?
I won't bore you with all the surgical details, but the Blazers have a number of factors clouding their ability to properly gauge their future lot. Two are much bigger than the others.
First, and most importantly, All-Star guard Brandon Roy has yet to return from dual knee surgeries and all indications are that he will be limited to some degree by his knees going forward. The Blazers are in the first year of a 5-year, $80+ million fully-guaranteed contract with Roy. He's as untradeable as a player can be.
Second, the Blazers must make a decision regarding chronically injured center
Greg Oden
this summer. Most likely, that decision will involve extending him a $8 million + qualifying offer which he will likely reject so that he can weigh multi-year offers. While his market value is unclear given that he is currently rehabilitating from his second microfracture knee surgery, the Blazers have indicated they are prepared to do what it takes to keep him. Between Oden and Roy, then, the Blazers have tied up a significant portion of their salary cap.
Making things even more complicated: the remaining Blazers have managed to climb all the way up to the middle of the pack in the Western Conference playoff picture and seem a solid bet to make the playoffs as is. Getting to the post-season matters to every NBA team, but it especially matters to the Blazers. Playoff gate revenue would surely be valued but, perhaps more importantly, this is a franchise that wants to take a place on the national stage whenever it can. Located in a small-market and geographically isolated from much of the basketball viewing public, the playoffs are a matter of pride and a chance for the team to shine when it so often feels overlooked. (Look no further than the
LaMarcus Aldridge
All-Star snub reaction to get a sense for this sentiment.) On top of that, Blazers owner Paul Allen is competitive and looking for a return on his investment of significant resources into this group of players.
Missing the playoffs, then, would be a blow to the pride, but also a blow to the credibility of the management staff. Despite all of the injuries, the resources and talent is still there, and that's without mentioning the team's solid head coach, Nate McMillan, who's making a case for Coach of the Year consideration. There are still expectations, even if the roof has caved in and eliminated the "contender" hopes for the time being.
Any potential trade deadline move for Portland has to be assessed from the perspective of whether it will meaningfully impact Portland's ability to make the post-season. If a potential deal carries that risk, then it better have a sweetheart reward. If a deal can be engineered that helps the finances or the team's future without compromising this year's run, then that's got to be on the table.
Assessing Portland's roster through this lens divvies the players into some fairly clear groups. Players like Aldridge,
Wesley Matthews
and
Nicolas Batum
are obvious building blocks going forward. Roy and Oden are virtually impossible to move. The obvious candidates for a potential trade are point guard Andre Miller, along with centers Marcus Camby and Joel Przybilla.
While there are financial arguments for moving any of them, Miller, Camby and Przybilla are of varied on-court importance.
Much has been made of Aldridge's breakout season - he's been floated as a Most Improved Player candidate and has twice won Western Conference Player of the Week honors - but none of that happens without his improved relationship with Miller, who hits him not only with lob after lob but also runs an effective late-game pick-and-roll as well. Miller probably trusted in Aldridge more than Aldridge did to start the season, and it's no coincidence that his voice was the loudest to complain when Aldridge was left off the All-Star team. The relationship that never developed between Miller and Roy - the relationship former Blazers GM Kevin Pritchard had hoped would make the Blazers a contender - now exists between Miller and Aldridge.
Without question, Aldridge's now dependable production would be diminished this year if Miller is moved. The Blazers also have no other legit options capable of handling full-time point guard duties. Portland would be left, for the fourth time this season, to craft a new identity for themselves heading into the playoff stretch run. It wouldn't be impossible, but it wouldn't be particularly pleasant. It also wouldn't be all that intelligent, as the Blazers can cut and run out of Miller's contract if they find a better option this summer or he can be moved to a team next year as an expiring contract. Given his on-court value and future financial flexibility it makes far more sense to hold on to Miller than to move him, and I haven't even mentioned that his age and lack of playoff success render his external value questionable.
One of the most intriguing, under-reported wrinkles of Portland's season is that the Blazers are 10-4 since Camby underwent arthroscropic knee surgery. The Blazers have made due by using Aldridge as a center and playing more small-ball. It's certainly possible, perhaps not probable, that the Blazers could move Camby and still remain in the top eight, assuming Aldridge remains as healthy and productive as he has been since December.
The problem, of course, is the team's longer-term uncertainty at the center position. With Oden's future up in the air and Przybilla not at 100% since returning from two knee surgeries last season, Camby figures to be a fairly valuable component of a 2011-2012 Blazers team. Without him, the Blazers would be forced to either re-cast their new franchise player, Aldridge, as a center, draft a big man and be prepared to give him real minutes right off the bat, or find a random big off the scrap heap. None of those options would seem to be nearly as appetizing as making due with Camby for now and moving him during the draft or next season as an expiring contract should the center position crystallize a bit. While playoff teams looking for an extra big have expressed interest in Camby's services during a playoff run, the Blazers are interested in him for the same reason, and also because they don't have another reliable center penciled into the roster next season. He's a key locker room presence, too.
Przybilla, though, is a different story. His contract is expiring and he's not currently a critical component of the rotation, although he's filled in nicely during Camby's absence. When Camby returns, however, Przybilla reverts back to his status as a small-minute insurance piece and would likely be used sparingly in the playoffs with McMillan preferring to ride his starters. Longer-term, Przybilla's future in Portland is unclear as well, even though he's a local icon. He's simply not productive enough at this point to warrant a real financial commitment from the Blazers, given their other commitments discussed above. He is a living seven-foot tall human that can rebound so he will draw interest from around the league this summer, and he's also mentioned the possibility of retirement. Were the Blazers able to move Przybilla and receive limited contracts in return, utilizing a team's trade exception or open cap space, it's possible they could get under the luxury tax line without truly jeopardizing their rotation or playoff chances.
Another player that was mentioned last summer but hasn't found his name in many rumors over the last month or two is guard
Rudy Fernandez
. Given Matthews' dependability and the potential return of Roy, Fernandez would become the most expendable member of the team's current rotation, although his ability to handle the ball helps his ability to get on the court should his minutes get squeezed. The formerly disgruntled Fernandez claims he is now happy in Portland and he's still on his rookie contract, so trading his $1.2 million salary alone wouldn't be enough to get the Blazers under the luxury tax line. Previously, Fernandez's asking price was said to be a late-first round pick. At this point, however, his internal value to the Blazers is likely higher than that given the questions surrounding Roy's availability. If you move Fernandez, a team that already struggles to score consistently and space the floor will be stretched even thinner. You would also be sacrificing a known, young, cheap rotation piece heading into a summer when you're likely to rebuild and get younger.
Putting this all together, we shouldn't be surprised that things are busy for the Blazers in the run-up to the deadline. They've got loads of questions and an uncertain future, plus a bunch of potential trade chips and prospects on rookie deals. But the potential costs of a midseason overhaul seem to outweigh the benefits, and minimal activity at the deadline wouldn't preclude the team's ability to make the same moves this summer or during next season.