Portland Trail Blazers GM Rich Cho says that the stalled Carmelo Anthony trade talks seem to be holding up other trade talks around the league.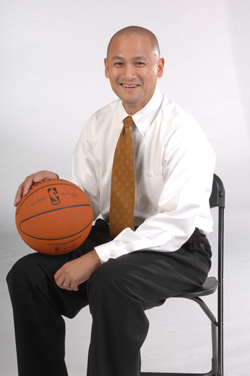 Posted by Ben Golliver.
Have you felt like a hostage to the endless Carmelo Anthony trade rumors? If so, you're in good company.
Portland Trail Blazers GM Rich Cho
told Blazers Broadcasting on Tuesday night
that he believes the stalled talks involving Denver's All-Star forward have impacted other league-wide trade talks. Asked in an interview with host Jay Allen and former Blazers Jerome Kersey and Terry Porter if he felt like business had slowed as everyone waits to find out Melo's fate, Cho agreed.
"It seems like it. It looked like that deal was going to go down with New Jersey. And then that got held up. I don't know if it's still going to go down or something is going to happen with New York or maybe Melo stays there [in Denver], but it does seem to be holding things up a little bit."
Back in January
, the Blazers were linked to a possible trade scenario involving Anthony and the New Jersey
Nets
that later fell apart. At the time,
NBA Fanhouse reported
that multiple deals had been impacted by the Melo holdup.
Earlier this week, CBSSports.com's Ken Berger noted that Blazers center
Joel Przybilla
, who is on an expiring contract,
could be of interest to Denver
even if they don't trade Anthony.
Cho also noted said that this year is as unpredictable as ever when it comes to predicting how much trade activity there will be.
"It's hard to say. There's been years where I thought there was going to be a lot of activity and there was one year where only a second round pick got changed. And there was a year we thought would be fairly inactive and a lot of trades happened, so you just never know."
Cho's final message: stay tuned. "Typically, not much happens until the week of the deadline," he said. That would be next week, of course.