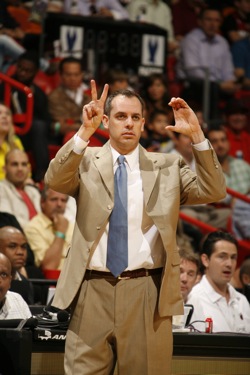 Posted by Royce Young
A few weeks ago, there were a few stories out that the
Pacers
wanted to fire then-coach Jim O'Brien. The problem was that
there wasn't a suitable replacement on the current bench.
Nobody was worthy of even the interim tag.
But that Pacers pulled the trigger anyway and promoted Frank Vogel to head coach, where he's the youngest in the league at 37.
It didn't look like a great move for Indiana. The season was already slipping away after a promising start, players were regressing and now the most unproven coach you could have was taking over? Things were expected to go from bad to worse and in a hurry.
Except the Pacers won their first game under Vogel. Then their second. Then thier third, and fourth. They lost the fifth, a fantastic effort against the Miami
Heat
in Miami, but responsed Wednesday with a big win over Charlotte, which actually put them back in eighth in the East. Under Vogel, the new coach who supposedly couldn't coach, Indiana is 5-1.
Now before we get too excited and start touting him for awards, it's not like the Pacers are beating the league's best teams. The wins have come against Toronto, Cleveland, the wounded Blazers, New Jersey and Charlotte. Not a murderer's row, but that's the thing: Under O'Brien, the Pacers weren't beating teams they should. So far under Vogel, they are.
They're playing different too. Everything is looser. The charge from the front office when Vogel took over was to play faster and play younger. That's happening. Under O'Brien, the team was one of the worst offensive teams in the league, relying almost exclusively on good shooting. They averaged under 98.0 points per game and had nights where they seriously couldn't score.
With Vogel manning the wheel, Indiana is playing faster and averaging 107.0 points per game and have topped the century mark in all six games. This is against some stout defensive units too, like the Heat, Blazers and
Bobcats
.
A few more, via Indy Cornrows:
offensive rating is 110.1 under Vogel, 104.0 under O'Brien; free throw attempts have increased by nearly 10 a game; and defensive has improved in a big way, going from 105.6 points per 100 possessions under O'Brien to 97.7 under Vogel. The Pacers have... improved.
You really don't have to look further than
Roy Hibbert
to see what's going on. He started out the season in a big way, averaging 15.6 and 9.4 rebounds in November. But under the apparent oppression of O'Brien, Hibbert fell off the face of the earth. He averged a little over 10 points a game in December and just 9.5 in January.
Since the change, Hibbert is averaging 18.6 ppg and 8.3 rpg. So tell me something isn't different now. I wonder if a player can win Most Improved just for the change made in a month.
Vogel put the change this way: "We're changing the identity of our basketball team dramatically. We are a power-post team, blood and guts, old school, smash-mouth team that plays with size, strength, speed, athleticism. We attack the basket."
Whatever it is, it's working. And working well. The Pacers are back in the playoff hunt in the East and behind Vogel, are playing way better. He may not be doing anything. He may just be giving a little pep talk and getting out of the way. But whatever it is, he deserves credit but the Pacers have opened up and are playing loose.
A change was needed in Indy and it's a good thing they decided to trust in their supposedly unfit assistant.