The CBSSports.com's Eye On Basketball team got together to debate the merits of a potential trade between the Denver Nuggets and Los Angeles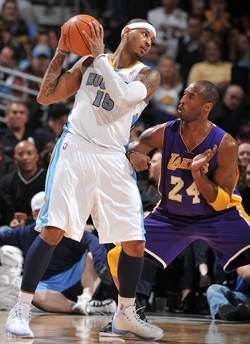 Lakers that would swap Carmelo Anthony and Andrew Bynum. Posted by Ben Golliver.
This morning,
we noted a report
that the Denver Nuggets and Los Angeles
Lakers
were discussing a possible swap of forward Carmelo Anthony and big man Andrew Bynum. Good idea? Bad idea? Other? We thought we'd talk it out.
Matt Moore
: So apparently there's some interest from L.A. Am I the only one who thinks this is madness? You just won back-to-back titles! You have the deepest, most talented roster in the NBA, and that includes Miami's Triad and Boston with umpteen bajillion HOFers (when factoring age). I just can't fathom why you would disrupt what is your biggest strength, your size and length, in order to add a high-usage star who may wind up busting your chemistry and who doesn't help you match up against Boston any better. To me, this is some desperation tinkering. I've never been a big Bynum guy, not since Tex Winter questioned his work ethic. But the facts remain. Big, study, super-tall dude who dunks and gets offensive rebounds. It's pretty simple: tall guys are good at basketball. Sure, Melo's a star, and a wiz offensively, but is that what's going to deliver L.A. the three-peat?
For Melo, though, I feel like this is a dream. New York's home, sure, and it's the market he wants. But no one turns down a chance to play for L.A. (well, besides
Raja Bell
, who's awesome for not needing that kind of glamor). This gives him all the attention he wants, he knows L.A. will constantly work to build a championship around him after Kobe retires, he gets to play with his friend Bryant for the best coach of our time, and the weather's nice! This is like pouting about how you don't like your toys and your parents buying you Disney Land.
Royce Young
: Is this the trade crap Mitch Kupchak was hinting at last week? Trading for Carmelo Anthony?
I guess if you want to catch the attention of your team, talking about landing the biggest fish in the pond is a good way to do it.
But like you said, Matt, why does this make sense for the Lakers? They've never been about the long-term. It's a season by season thing for them. They always have money, they always have the Hollywood draw, so they're always going to be able to get players. In terms of winning a title THIS YEAR, I don't see how Carmelo improves them for that.
The Lakers won the title last season because they had Andrew Bynum, and an Andrew Bynum that wasn't 100 percent. He's a difference maker on that team. If this is a move to try and find
Kobe Bryant
's heir apparent, that makes some sense, but Melo wouldn't be accepting that role for another three or four years. By that time, he'd be up for another extension. Short-term, it doesn't make sense for them to do, which is what the Lakers are all about.
Ben Golliver:
I tend to agree. Given the relative age of the Los Angeles Lakers' key pieces and their salary cap situation, this is clearly a win-now team, even more so than usual. For all the panicking of late, the Lakers are still one of the top two or three favorites to win the title. The risk in trading Andrew Bynum for Carmelo Anthony, first and foremost, is one of timing rather than production. Bynum has been injured this season and in past seasons, so the Lakers are used to making due without him. They'd vastly prefer to have him available, especially against the
Celtics
in the Finals, but a
Pau Gasol
/
Lamar Odom
frontline is more than capable. A Bynum trade would be felt more deeply further down the road, as the rest of the Lakers continue to age and more is required of their talented, young big man.
But, for now, the biggest issue would be: Could Anthony and Kobe Bryant figure out a way to play off each other and get enough shots/touches to make things work this spring? Would they be able to do so without compromising what Gasol gives L.A. inside? Anthony's introduction into the offense would turn LA's usage rates upside down, and his strength in isolation situations might take some adjustment time to integrate into the rest of the triangle offense.
This would be an even more complicated version of the
LeBron James
/
Dwyane Wade
dynamic, as neither Bryant not Anthony is a natural born play-maker, and L.A. isn't likely to default to heavy pick and roll usage like Miami has this season. There would be no training camp and preseason to iron these things out. This would be wholesale change, on the fly, in the middle of a playoff chase that L.A. is already leading. Even given Anthony's age and his ability to take over the alpha dog role from Bryant as Bryant continues to age, the issue of timing -- and how it compromises this year's title run -- would give me serious pause if I'm L.A. We saw how Miami struggled out of the gates this fall. If you're Phil Jackson or Lakers management, do you really want to start that struggling, get-to-know-you process in March?
Matt Moore:
Great point, Ben. Chemistry adjustments are always difficult, and that's before bringing Kobe Bryant into the picture. This team needs to be really careful about things because there have already been flare ups in the team. This isn't a close, bonded team, it's one that walks on thin ice around Phil and Kobe. And you're bringing in a guy who hasn't had the coolest head or the smallest ego in his career.
And for Denver, what possible good does this do? I continue to be stunned that they walked away from Harris-Favors-3-No.1s. That's an obscene package for one player, even a superstar, if you're not looking to take on major salary. Now they're looking at Bynum only? That's $15 mil next season. You're going to be paying $15 million for a triple-knee-injury still-raw center whose never had to carry a franchise in any meaningful capacity? How much lower is Ujiri looking to drop value, here? What's next, trading Melo for
Stephen Jackson
, straight up?
Royce Young:
That's my main question too, Matt. Does this really improve both teams all that much?
A healthy Bynum is definitely a building block piece. He's something you go for. But he has constant questions surrounding him and his knee.
And how does Melo fit in with Kobe? How are there possibly enough shots for those two to be happy. If
Ron Artest
was frustrated with Kobe and Pau Gasol hogging too much offense, he's really going to hate playing with Melo and Kobe.
Matt Moore:
And all this is before we start to look at La La Vasquez and Khloe Kardashian on the same team, along with Monica. It's like a superego superstorm.
Ben Golliver:
Basketball wives aren't exactly my forte, so I'll let that one slide (for now) to say that I'm not crazy about this trade for Denver, either. Picks, youth, money and flexibility would be much better. But I'm not dead set against the idea of Bynum on a team that's been known for physical, hard-nosed play and solid rebounding. I think he's a building block piece who, although you have to pay him and manage his injury situation, can keep you in the playoff race for years to come. If you can find a way to weasel some picks in a related trade and dump
Chauncey Billups
on someone, this could become the NBA trade equivalent of settling for the ugly Kardashian sister. Did I just make a nearly-relevant pop culture zing? Let's end it there.