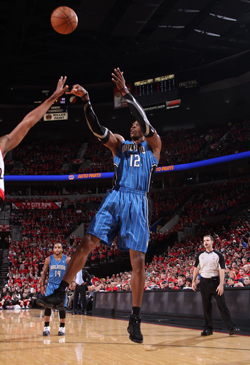 Posted by Royce Young
You better get used to this Dwight, because as the ones who have come before can tell you, this is how it will be.
Fresh off Ken Berger's report
that if
Dwight Howard
chooses not to re-sign in Orlando, he'd look toward the
Lakers
,
Knicks
or
Nets
,
Howard responded on Twitter saying,
"I never said I wanted to leave stop reading the rumors. It's really stupid. And annoying to be honest. They tryna make something outta nothing I have another yr under my contract before I can sign."
Of course Berger's report didn't say that Howard was fully intending to leave. For example, Berger writes, "Howard evidently is willing to be patient. A free agent in 2012 along with the
Hornets
'
Chris Paul
, Howard has yet to form a strong opinion one way or the other, according to a person with knowledge of his thinking."
But the way these things work is that someone tells Howard that some writer says he wants to leave. Then of course Howard has to deny the report that doesn't even exist. It's kind of the way it works. We're all used to it.
Orlando knows it's on the clock. General manager Otis Smith knows that his main goal is keeping Howard. That doesn't mean Howard's not going to drop the "I want to look at my options" line when he can opt out in 2012. And it also doesn't mean he won't re-sign in Orlando.
Along with Chris Paul, Howard will be the biggest name on the market in 2012. Everyone will be after him and like the Cavs with LeBron before, the
Magic
will have to convince Howard to be a part of their team. Howard probably is trying not to think about all that right now, but it's got to be in the back of his mind. If things don't get done in Orlando, the bright lights of Los Angeles or New York might just intrigue him.
But what Howard tweeted is correct. He never did say he wants to leave. But he also has never said he wants to stay.