Gilbert Arenas says his struggles may be because he's under the weather. Turns out he may be right about why his shot has cooled off so badly.
Posted by Matt Moore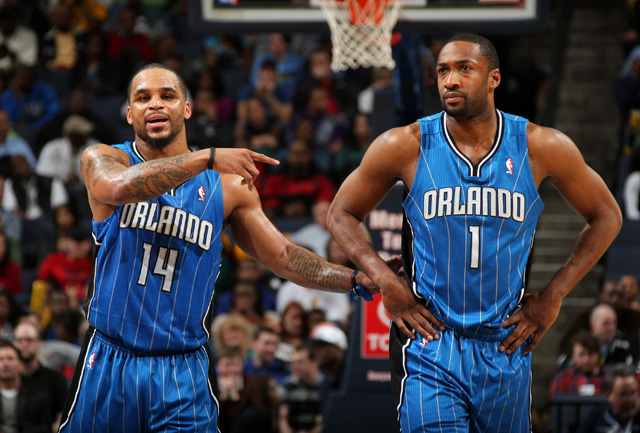 Pretty much whenever Gilbert Arenas opens his mouth, it's kind of like
Ron Artest
at this point. You listen, nod your head, and throw his comments on the career pile of wacky stuff he's spit out over the years. But for whatever reason, Arenas' latest wackadoodle comment had a shred of truth to it. From CBSSports.com's own Ken Berger:
"Cities that are high on the map, I have trouble with," Arenas said. "Like this city during the winter. But as soon as February shows up – that's why they call me Mr. February, because I'll be dunking and jumping around in practice. I'm glad we're about to have a month basically at home so I can just get my rhythm and be in the warm weather where my knee is going to feel a lot better. It's like day and night. It's weird."

Asked when it will feel better, Arenas said, "As soon as we land in Orlando. When it's cold, the coldness swells in my joints and puts moisture in my joints and that's what makes it stiff. So once I get to a warm city, or any city that has high humidity, I'm fine."
via
The artist formerly known as Gilbert Arenas - CBSSports.com
.
Now, lots of players like to talk about things that seem to affect their games without actually affecting their games. But in Arenas' case? He's got a point. Let's take a look at some
numbers from Basketball-Reference.com
.
For his career, Arenas is a 42% shooter from the field and a 35% three-point shooter. But in January, Arenas shoots just 41% from the field and 31% from the arc. In February? 42% and 37%. Then in March? It jumps to 43% and 38%. His point totals drop, too. Check it out in this super-cheesy graph I made: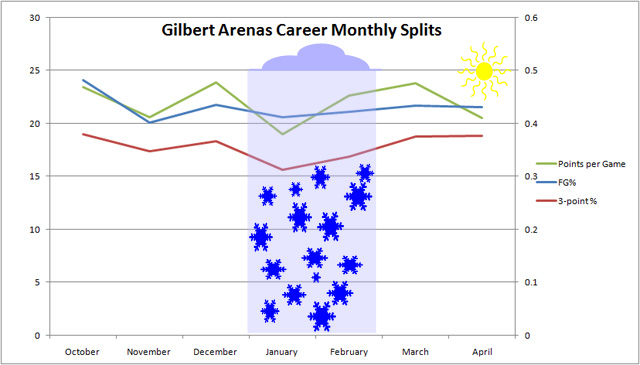 So maybe there is something to what Arenas has said about his knee locking up in the cold months in the cities "high on the map." In fact, in 2004-2005, Arenas'
best months for point production were January and February
, even if his shooting percentages dropped over all. But in his career best season of 2005-2006, we see the same winterly decline pattern, as he scored just 25 points per game on 44% shooting versus his season average of 39 on 45%.
But saying he's Mr. February may be a bit much. Maybe Mr. Valentine? Or Mr. March? Perhaps Mr. Pre-Easter? Mr. Ides? Granted, Arenas' overall numbers are still sliding due to the knee injuries, age, and diminished skills. He's not the scorer he once was, no matter what month of year it is. But either way, it turns out that among the bonkers things Arenas has said throughout his career, this one was actually a little bit on the money.